There are few Prime Ministers that have had as ignominious an end to their premiership as Boris Johnson. Indeed, not only did he resign as Prime Minister, he was later forced to resign as an MP or face the inevitability of being recalled under the Recall of MPs Act (2015). However, prior to the onset of the COVID-19 pandemic and the national embarrassment of the Partygate Affair, Boris Johnson had achieved his main policy goal from the 2019 General Election of 'getting Brexit done'. So, how did he manage to do this after the travails that Theresa May faced on the same issue?
What was the situation for Boris Johnson upon becoming Prime Minsiter?
Boris Johnson faced a number of challenges upon becoming Prime Minister. Firstly, he inherited Theresa May's minority government from the 2017 General Election. This made it extremely difficult for him to carry out his agenda. Indeed, from July 2019 to October 2019, Johnson's government lost 12 divisions in the House of Commons and he became the first Prime Minister since 1894 to lose a division on its very first sitting day.
Secondly, he inherited a divided Conservative Party. The same ruptures within the Conservative Party that had haunted Theresa May were there for Johnson. However, in addition, some members like Anna Soubry and Sarah Woolaston had left the party to join Change UK.
What decisions did Johnson make upon becoming Prime Minister?
When Johnson first became Prime Minister he had to choose his new Cabinet. Unlike May, who had attempted to achieve a delicate balance between remainers and leavers, Johnson ruthlessly packed his Cabinet with leavers. For example, Dominic Raab was made Foreign Secretary and First Secretary of State, Priti Patel was made Home Secretary with Michael Gove becoming Chancellor of the Duchy of Lancaster. This was an important role. The Chancellor of the Duchy of Lancaster has no office to oversee. They can therefore be deployed where the Prime Minister believes they need additional firepower. For Gove, this would be moving the Prime Minister's Brexit agenda through Parliament.
Upon becoming Prime Minister, Johnson made clear that he wanted to get Brexit sorted as soon as possible:
"I am standing before you today to tell you the British people that those critics [of Brexit] are wrong. The doubters, the doomsters, the gloomsters – they are going to get it wrong again. The people who bet against Britain are going to lose their shirts because we are going to restore trust in our democracy and we are going to fulfil the repeated promises of parliament to the people and come out of the EU on October 31st. No if or buts and we will do a new deal, a better deal that will maximise the opportunities of Brexit while allowing us to develop a new and exciting partnership with the rest of Europe."

Boris Johnson's first speech as Prime Minister
What became very apparent early on his premiership was that Johnson would be willing to run down the clock as a form of political leverage. Theresa May had famously declared that "no deal is better than a bad deal". However, it became quickly apparent that she was not willing to seriously risk no deal to push through her own deal. As a remainer, she perceived that a no-deal Brexit would be disastrous for the UK. As a leaver, Johnson had more people behind him who felt that leaving the EU and reverting to trading with EU members on WTO terms would not be a disaster at all.
What challenges did Johnson face from Parliament over Brexit?
Johnson's challenges over Brexit in Parliament began straight away when Parliament returned from the Summer recess. On the 3rd September, the first sitting parliamentary day of his premiership, an emergency motion on Brexit was debated. This motion (which would later become the 'Benn Act'), would force the government to request an extension to the Brexit deadline if no withdrawal agreement was reached by the 19th October. The government lost the vote by 328-301. Johnson said in response this that Parliament was failing and he needed a new General Election.
In addition, he withdrew the whip from the 21 Conservative MPs who rebelled and voted with the opposition. Some of them, including Kenneth Clarke, Philip Hammond and Nicholas Soames (Churchill's grandson), were amongst the most senior and long-standing Conservative MPs, indeed, Ken Clarke was the Father of the House. Following the sacking of the 21 MPs, Johnson faced further pressures when members of his Cabinet resigned. His own brother, Jo Johnson, resigned as he felt torn between his "family and the national interest". Amber Rudd resigned citing the withdrawal of the whip from the 21 MPs as "an assault on democracy". Ironically, Boris Johnson had twice voted against Theresa May's withdrawal agreement, and yet had not had the whip withdrawn by the then Prime Minister.
Following the defeat on the Benn Bill, Johnson turned his attention to trying to call an early general election to break the parliamentary impasse. Under the stipulations of the Fixed-Term Parliaments Act, Johnson would require a 2/3rds majority of all MPs (meaning 434 MPs). However, the opposition parties refused to countenance agreeing to an early general election this whilst a no-deal option was still on the table. Johnson tried to trigger a new election under the FTPA three times, failing each time:
4th September 2019 – 298 voted for (136 short)
9th September 2019 – 293 voted for (141 short)
28th October 2019 – 299 vote for (135 short)
In August Boris Johnson announced his plan to prorogue Parliament in September. The government argued that this was because Parliament had been sitting for a very long period, however, most suspected it was because the Government were attempting to reduce the time for Parliament to debate Brexit and therefore put pressure on parliament to pass any deal to avoid no deal. The issue was challenged in the British courts by Gina Miller and in the Scottish courts by Joanna Cherry. Eventually, the Supreme Court found that Johnson's prorogation was unlawful and ordered that it had never taken place.
Following the cancellation of prorogation, Boris Johnson managed on the 17th October to secure a new withdrawal agreement with the European Union on the 17th October. Following this, Parliament sat on a Saturday for the first time since 1982 and the outbreak of the Falklands War. Before the vote on the agreement, MPs agreed to pass a resolution delaying consideration of the agreement until it had gone through all its parliamentary stages. Subsequently, as part of the Benn Act, Boris Johnson was forced to right to the EU asking for an extension. He did this as legally required, using the words Parliament stipulated, however, he also sent a second letter which outlined what he really thought about it: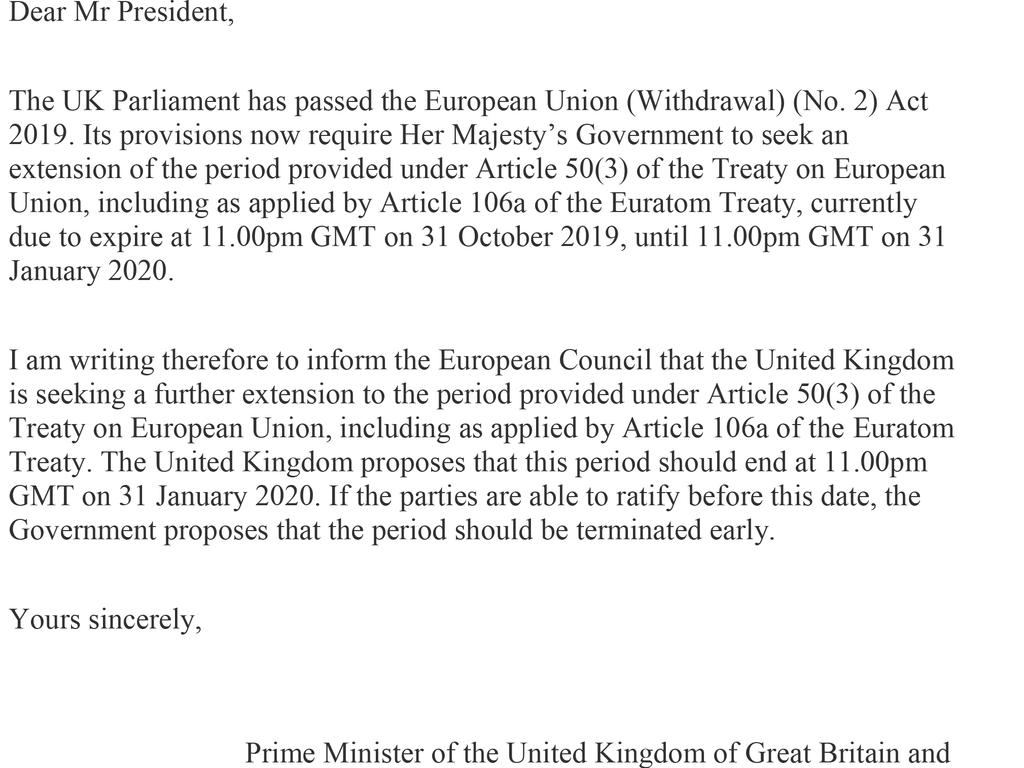 On the 21st October 2019 the EU Withdrawal Bill was introduced to Parliament. It passed by 329-299 votes, but another vote by 322-308 votes indicated that Parliament did not believe that there was sufficient time to consider the deal before the 31st October deadline. Subsequently, the EU agreed to an extension to Article 50 until the 31st January 2020, the third extension in had granted to Britain.
How did Johnson secure a General Election?
The Government then did something constitutionally legitimate but undoubtedly 'gamey'. As the opposition parties had refused to consent to an an early election under the Fixed-Term Parliaments Act (therefore requiring the support of two-thirds of MPs), they introduced a separate bill that called for a one-off general election to be held on 12th December 2019. This bill, one of the shortest in parliamentary history, only required a simple majority. It passed comfortably by 438-20 votes.
What happened in the 2019 General Election?
Following this, both the Conservatives and Labour focused preparing for the General Election, with policies over Brexit a key campaign point. The policies of the three major parties diverged significantly:
Conservatives – The Conservatives very simply called for Britain to 'Get Brexit Done' by passing his new deal through Parliament.
Labour – Labour promised a second referendum to the British people. They said that they would renegotiate a deal with the European Union and then put this deal to the public via a referendum. Confusingly, Labour did not indicate on what side they would campaign in the referendum, indicating they might campaign against their own deal. Labour did guarantee they would never leave without 'no-deal'.
Lib Dems – The Lib Dem manifesto radically called, not for a second referendum (as they campaigned for in 2017), but to unilaterally revoke Article 50.
Unlike in 2017, where a range of issues became prominent, in 2019 Brexit stood out even more as the key issue. Voters, on both sides of the issue, suffered from Brexit exhaustion and this contributed to the 80 seat majority that the Conservatives won.
What happened following the General Election?
Following the election, things were much smoother for the Prime Minister. Boris Johnson quickly reintroduced his withdrawal agreement and on the 22nd January some proposed amendments from the House of Lords were rejected in the Commons by 342–254, following this, the Lords backed down and the bill received Royal Assent. Boris could claim to have 'got Brexit done' and on the 31st January at 11PM, Britain left the EU.
However, this was just the withdrawal agreement. It was the equivalent of a couple verbally agreeing that they should divorce. Much more work then has to be done to decide the variety of issues that need clarifying following this. Most notably, Britain needed a trade deal with the EU. This would need to be done by the end of the transition period on 31st December. Following this, Britain would again be facing a no-deal Brexit. Negotiations took place slowly throughout the year, but it was only in the last weeks that significant progress was made. It was left to the last minute, with Parliament only ratifying the European Union (Future Relationship) Act on the 30th December 2020. It did so comfortably by 521 votes to 73, with Keir Starmer's Labour supporting the bill with the fear of a no-deal Brexit looming.
There were and still plenty of Brexit issues to sort, indeed, as of September 2023 and the existence of the Windsor Framework, it is arguable that Brexit has still not been 'done'. However, that does not change the fact that by the end of 2020 Boris Johnson could clearly claim that he had 'got Brexit done'. Unfortunately for him, his premiership would not be defined by Brexit after all, but by a virus that broke out nearly 5,000 miles away.
Article Summary
Boris Johnson was able to Get Brexit Done by being willing, or making it look like he was willing, to drive Britain off the cliff-edge with a no-deal Brexit. Unlike May, he was also willing to take harsh measures against those who defied the Conservative Party whip over Brexit. He was thus able to get a deal with the EU which he could put to a Brexit-exhausted electorate in 2019 – gaining a clear mandate for his plan to 'Get Brexit Done'.
Key Terms
No-Deal Brexit – A form of Brexit in which there would have been no deal between the UK and EU and Britain would have traded with the EU on WTO terms.
Prorogation – The formal ending of a parliamentary session. In 2019 Boris Johnson's prorogation of Parliament was found to be unlawful by the UK Supreme Court.
Fixed-Term Parliaments Act – A now repealed Act of parliament that set an election date five years into the future with only two circumstances through which an early election could be held.
Article 50 – The constitutional mechanism through which a state formally declares its intention to leave the European Union.